The property at a glance:
| | | | |
| --- | --- | --- | --- |
| Location: | San Ignacio, Belize, Central America | Type: | Resort |
| Plot Size: | 10.6 acres | Cabañas: | 8 |
| Road Frontage: | 827.28 ft | Rooms: | 8 |
Three profit centers included:
Hotel: 8 cottages/cabanas, 7-room lodge, 2 bedroom vacation home, jungle trails, pool and tropical gardens.  All bedrooms have a/c and hot water.
Restaurant: Complete kitchen serving international and local gourmet cuisine
Tour Operation: Licensed tour operator for top adventure, archaeology, and natural history destinations
Conference Room: Fully equipped conference room holds 24 persons at tables or 35 theater style.
Description:
Top-rated: Maya Mountain Lodge is one of the longest-established eco-lodges in Belize and benefits from 30 years of brand awareness and marketing. With a location that offers easy accessibility, this turnkey business, available for sale for the very first time, includes everything needed for a smooth turnover and future expansion.
Property: The Lodge property 10.6 acres, with nature trails, three acres of mature tropical gardens, 8 cabins, vacation home, and 7 rooms in the Parrot's Perch building. This building has a large deck overlooking the Lodge swimming pool with lovely views of the valley.
Also located on the property are a covered dining patio, kitchen, storage, and laundry facilities, offices, and the owners' home and staff quarters.
Access: Reached via paved road, just one mile off Belize's Western Highway, this centralized location offers easy access to tourism destinations, to town, and to municipal electric, water, garbage, international telephone, and internet services. Maya Mountain is within 10 minutes of 2 hospitals, a junior college, and a university, and less than 2 hours form Belize's International Airport.
Technology: Maya Mountain Lodge is up to date with technology and marketing advances, ensuring an ever-expanding customer base. Computer networks, high speed internet, a GDS reservation system, and an extensive database are included in the sale of the business.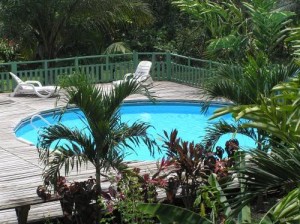 Lifestyle: Guests describe the resort as "a piece of Paradise." Within a delightful diversity of Caribbean and Central American cultures, local lifestyle possibilities include adventure activities, relaxation, and healthy eating. Maya Mountain has over 100 ornamental and tropical edibles including mango, papaya, coconut, soursop, and limes.
Development: Room for expansion on the 10.6 acres. For those interested in even greater expansion possibilities, two adjacent riverfront parcels of land are available for sale. These parcels, of 16+ acres and 47+ acres each, can be purchased with the lodge or separately. A premium secluded location for a river camp exist at the riverside of tract 1. A road already exist to these exquisite eco-tourism sites.
A viewing is definitely recommended to appreciate the potential contained within this business.
Priced to sell:
Price: $990,000. USD Discounted 33% below value
Value: $1,467,000. USD
Value includes appraised value of $1,167,120. USD for land and buildings plus $300,000 USD for furnishings, vehicles, machinery and equipment, good client base, brand image, goodwill for going concern, turnkey business.
Financing: 50% down with 5 years to pay balance @ 5% interest
Discounts: 10% for cash payment in full
Combined purchases: Lodge plus tract #1 (17 acres riverfront) and/or tract #3 (47 acres riverfront) will qualify extended financing of 10 years @ 5% interest after payment of 50% down.  Cash payment in full would allow an additional 10% discount. (see www.belizeriverpropertforsale.com)